Cockpits and Text
I've spent the past couple of days experimenting with the initial stages of texturing the mammoth cockpit of the 777. Its really quite spacious when you get down to it. I don't think that its quite encroaching on L-1011 territory (I've heard stories of putting greens between the engineer's station and the jumpseat in the back), but its certainly not small. This leads to a problem. There are substantial areas that need text…most all of it backlit.
I'm waxing poetic geek right now, but there are three solutions to the cockpit text problem that I can work out. First of all is to texture all of the panels straight on with a white texture basis for the text. This works for several things, but not when you need to isolate interior illumination from the backlit textual illumination. Admittedly, it is far easier to shade this text with shadows and the like which is a plus. Second is to texture the letters in the same regard as above, but use an alpha channel to do it with, so that there is a 'hole' in the panel where the letter should be. A polygon behind the instrument provides the backlighting. I've seen this used and have thought long about using the technique myself. The problems though are identical to those from the first solution. The resolution required to have sharp letters in the 3d cockpit environment during all times of the day is far too high to be productive. I've also noticed that while the letters may be crisp during daylight, once illuminated at night, the effective crispiness drops and the cockpit text becomes very difficult to read. Again, this can be solved by upping the resolution to very high levels on all of your textual panels. The third solution is to do away with textured text of any sort and draw it out using polygons. If you've been following the Comet project, you know exactly what I'm on about. I'm trading textures for polygons and so far I like the results. While this process has its ups and downs as well, I do feel that for large cockpits like the 777s, with lots of space and surfaces, the polytext solution is going to be the best all rounder, with limited use of the first solution for non back lit placards.
While I can't take credit for the idea, I am going to throw out a big thank you to Guy (guym-p) for the inspiration!
Having said all of this, just because our text will be nice and sharp doesn't mean that we'll be skimping on cockpit texture resolution. It just won't have to be near as astronomical to achieve the clear legible quality that we want and we can better spread that quality throughout without having to spend huge amounts of VRAM just on the instrument panels. From my perspective, this really is a win win for all of us!
The reason I bring this is up is that I fired up the sim to get a feel for how the process was working and to see what kind of look I'm going to achieve. I was pleasantly surprised when I was greeted with this…and even more pleasantly surprised when I noticed that framerate wasn't effected. Its amazing what a little text can do to completely change the feel of the cockpit environment. Definitely thought that it was worth a share!
Keep poking around in the gallery as I'll do my best to update it with panel shots during the texturing process on a semiregular basis.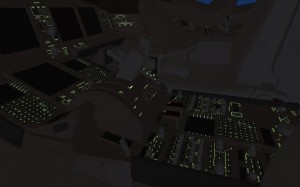 If you want to go straight to the HD version, click here.
I'm off to bed for now, but its the AP panel and overhead tomorrow. Once we've gotten this all hooked up to light level rheostats, this will be a happy place.
Alex
---