Greater Auckland Scenery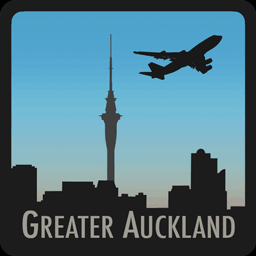 Greater Auckland Scenery 2.0
by Reuben Horsley
Welcome to XP Jets' Greater Auckland 2.0 scenery package. This faithful reproduction of the greater Auckland area of New Zealand's North Island features high resolution terrain textures, custom terminals at several airfields, and accurate airport and navigational data for the area. Scroll down to view an overview and screenshots of the scenery, system requirements, or jump directly to the download.
Overview & Screenshots
Click images for larger views (opens a new window)
Auckland CBD and Surrounding Area:
Auckland's CBD includes several landmark buildings, most notably the Skytower, which is the city's tallest structure, and the Auckland Harbor Bridge. Screenshots show the CBD, Motuihe, and Waiheke areas.
Auckland Mangere International Airport (NZAA):
Auckland Mangere International is New Zealand's primary international airport. Home to Air New Zealand, NZAA serves as a gateway to Southeast Asia, Australia, North America, and Europe. Featuring two parallel runways and two independent terminals, the airport is located 21 km south of the Auckland city center. Auckland is the fourth largest international airport in Oceania behind Sydney Kingsford Smith, Melbourne Tullamarine, and Brisbane International, handling an average of 12 million passengers annually. The airport officially opened for international services in January 1966, and has recently undergone extensive renovations in order to be fully ready for the arrival of the Airbus A380 and air travel in the 21st century.
Ardmore Aerodrome (NZAR):
Ardmore is Auckland's local airfield. It is the busiest general aviation airport in New Zealand and home to the Auckland Aeroclub and Ardmore Flying School, one of the leading flight schools in Australasia.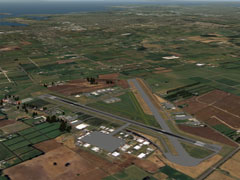 Pike's Point [CLOSED] (NZPK):
Pike's Point is a former microlight strip near the heart of Auckland. It was closed last year.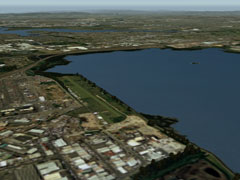 Whenuapai (NZWP):
Whenuapai is a RNZAF aerodrome. It is currently slated for conversion to civilian use.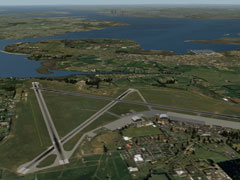 North Shore (NZNE):
North Shore is another small general aviation field in the northern Auckland area.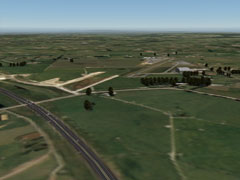 System Requirements
Macintosh Requirements
G4 1.0GHz or better
512MB RAM
Radeon 9600 or better with 128MB VRAM (GeForce 6 series or better)
Windows Requirements
Pentium 4 2.0Ghz or better
512MB RAM
Radeon 9600 or better with 128MB VRAM (GeForce 6 series or better)
X-Plane 8.32 or higher
XP Jets recommends at least 1GB of RAM and a graphics card with 256MB of VRAM to fully experience the scenery without a performance hit.
Download
Download Greater Auckland 2.0 Scenery (ZIP Format - 146MB)